TAS-16 is an elite, two-hour program limited to only 250 middle and high school students and teachers and engaging them in breakout sessions facilitated by graduate students from the Massachusetts Aggression Reduction Center (MARC) at Bridgewater State University. Designed to educate, train and engage student leaders to spearhead bullying prevention efforts at their schools, participants will receive program certification as peer leaders in bullying prevention. Certificates will be issued by MARC and STAND UP. More Event Details >
WHO SHOULD ATTEND?
• Students (grades 6-12) who represent diverse groups and interests.
• Student leaders who are motivated to create positive change in their schools.
BENEFITS OF ATTENDING:
TAS-16 will train student leaders to:
• Identify challenges within their schools.
• Exchange ideas and approaches for dealing with bullying.
• Create and share student-led strategies and programming with their peers.
We hope your school will take part in this very important program! School teams are made up of 10 students and must be accompanied by a supervisor. Schools may register up to three teams. Space is limited. This is a Free Program. Light refreshments will be provided and Free parking is available onsite. Register your school's team today!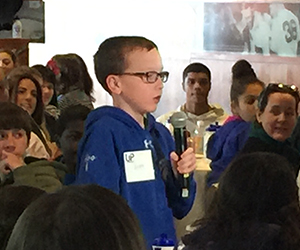 STAND UP has been created to educate, motivate and empower young people to stand up to bullying and bullies and to help create a culture of non-tolerance for this behavior. 
Training & Action Summit-16:
Bullying Prevention – Taking Action
Friday, May 20, 2016 • Lombardo's
6 Billings Street, Randolph, MA
SESSION 1: 9:00 AM - 11:00 AM
SESSION 2: 11:30 AM - 1:30 PM 
STAND UP empowers youth to actively promote positive social change in their schools and communities.